Hyundai Card Pixel Factory
Although our focus is very much on the UK market, when our friends at Gensler London scooped the Mixology award for Medium Commercial Project earlier this year, we wanted to find out more about their incredible scheme – regardless of its geography.
Project Team
Client

Hyundai

Interior Design

Gensler

Flooring Suppliers

Tretford, Interface, Jaymart

Furniture

Vitra, Herman Miller, Hay, Magis
The project in question is Digital Hyundai Card's Pixel Factory in Seoul, South Korea. The Pixel Factory intends to encourage and support the growth of innovation across all levels of the business. It was conceived with the aim of creating an environment that encourages people to connect with people, in a comfortable, flexible and intuitive fashion. 
The 32,000 sq ft space is designed with a variety of settings that support staff who live and work in a connected world and for whom digital communication comes as second nature. Finished with a deceptively simple, yet bold, colour palette, as well as minimalist furniture and fixtures, the space offers a calm canvas as a background to daily activities. In keeping with the industrial aesthetic, the environmental graphics and wayfinding programme is largely based on factory graphics with a raw and unpolished design language.
Gensler's team has created an attractive, comfortable and user friendly work environment that is simple to use and helps foster a culture of innovation and collaboration.
Gensler set out to create an environment which helps the firm optimise, attract and retain the talent that it needs to focus and succeed in its digitalisation effort.
Designed with an emphasis on the daily experience of individual workers, the Pixel Factory is conceived as a space that is tailored to encourage and support the growth of innovation across all levels of the business
The space is designed with a variety of settings that support staff who live and work in a connected world and for whom digital communication comes as second nature. Gensler worked closely with Hyundai Card to design a space that embraces all digital tools, allowing employees to produce their best work every day. At the same time, it provides a platform that supports the collective use of connected devices, software and interfaces and encourages the intersection of people, organisation and tools.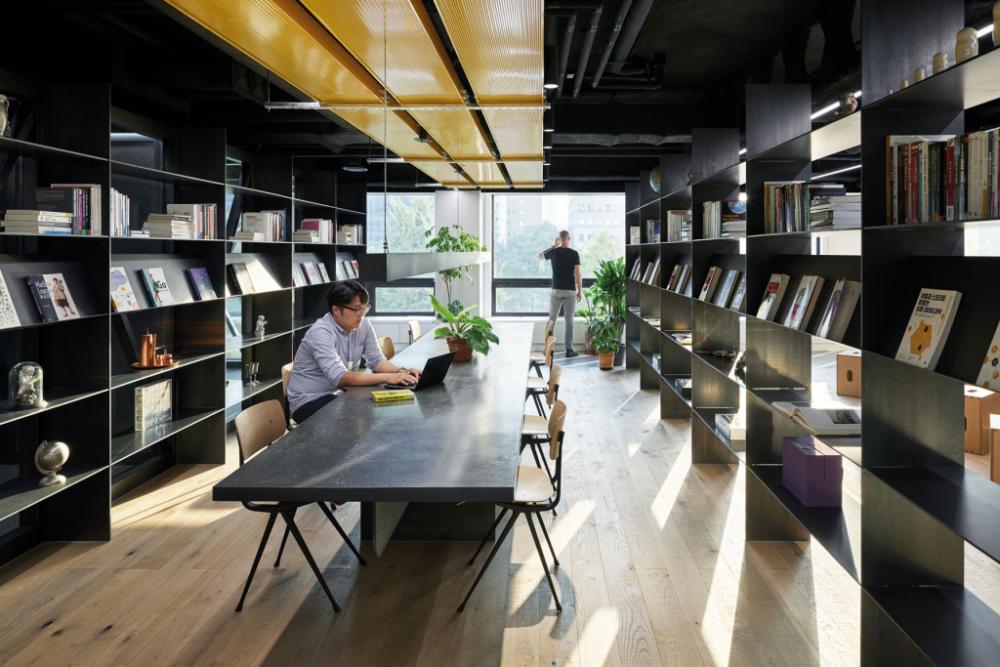 The working relationship, we discover, started over 12 years ago, when Gensler was asked to design Hyundai Capital's US headquarters in Irvine, California. From there, the design and architecture firm was commissioned to design further projects in the US, Germany, UK, China and South Korea, as well as an air lounge at Incheon Airport in Seoul. 
After more than 20 varied projects, in half a dozen countries, over the last decade, Gensler and Hyundai Capital have indisputably attained a meeting of minds. As Philippe Paré, Managing Director and Design Principal, explains: 'Our relationship has evolved to where Hyundai Capital's CEO, Ted Chung, is more of a patron than a client. He presents a clear vision, then gives us free rein as we fully understand Hyundai Capital's business needs and culture and, most crucially, put an onus on making the new space lean, agile and authentic without trying to make a design statement.
Everything is easier when you've worked with a client for so many years
'Our design has also been a positive agent for change. For our first project, we designed a very pristine and minimal workplace to strengthen Hyundai Capital's position as a leading global financial services firm. Fast forward 12 years later, they're now a well-established player in the industry and confident enough to provide a more relaxed and approachable design that's tailored to the needs of its employees.'
We ask about the process itself – and how Gensler's team was able to look after and work with its client in Korea. 'Everything is easier when you've worked with a client for so many years. There is a mutual understanding of how we can work well together whilst being in different locations. There is real trust, and we therefore don't have to see each other every week,' but, as Philippe explains, 'you do need touchpoints throughout the project.' 
The design team at Gensler organised regular virtual meetings, a visioning session, in person, with Hyundai Capital's CEO at the very beginning of the project and a series of workshops in South Korea.
'We also selected a contractor that we knew well to deliver the project,' adds Philippe. 'We've worked with them for several years in South Korea and, because of that, they're familiar with the level of execution and details we look for in our projects.'
The conveyor belt is a good metaphor for what Hyundai Card is about: a company that's doing something differently and seeing something that others can't see.
So what were the biggest challenges for the design team?
'The main challenge was to imagine a space that would be approachable by the employees,' explains Philippe. 'Hyundai Card has always put a lot of emphasis on the aesthetic of its workplaces but they also wanted to make sure that this wouldn't come at the expense of employee comfort and wellbeing. Indeed, they wanted to empower employees to take full advantage of the flexibility that we built into the design and make it their own.
'We also wanted to create a space that had a certain rawness and authenticity to it, but not do so in a contrived, pastiche, industrial-looking way. To achieve this, we've only selected raw and authentic materials. Nothing was artificially distressed along the way.'
Importantly, Hyundai Card was moving towards an increasingly digital culture, shifting its focus away from traditional financial services into fintech. As a result, the company was looking for a brand new workplace environment – for the people in charge of this digital transformation – that would reflect this genesis whilst ensuring its people could flourish and thrive in a beautiful, vibrant and comfortable space. The project concerned two floors in one of the two towers owned by Hyundai Card in South Korea.
'The most important criteria was to create a flexible environment,' Philippe considers. 'That particular group of people we've designed for is very much at the cutting edge of the digital transformation. Change is the only constant for them, and it's impossible to predict how they will work two years from now and how their needs might evolve as a result.
'As this is a tech-employee base, they're used to a very flexible work schedule and so we needed to create a space where employees felt comfortable spending long hours within.' 
As a result, the team at Gensler put emphasis on biophilia throughout the space to energise the employees, whilst creating a multitude of work settings, from meeting rooms on wheels to communal areas to better address their needs. 
So how has the project been received by these users? 'Very well received!' Philippe tells us. 'Although the needs of this particular group are unique, a number of our design elements and features, such as the biophilia and the ad-hoc planning of desks, have been co-opted by other business units, and today this remains the benchmark project that's getting employees excited across the company. 
'In Asia, most companies have a sea of workstations with very regimented desks, whereas here it's more loose – managers don't have private offices. This has created a more centralised social area and a level of informality that's new and fresh in South Korea.
'There weren't any global standards per se, but a sense that, at the end of the day, the project needed to be impeccably detailed and executed. There's a rigor and a purpose to everything we do. And whilst each project we design for them is different, you can always tell you are in a Hyundai Card space as they each embody the essence of what the brand stands for.'
Finally, we ask Philippe to tell us about his favourite elements of this incredible, innovative scheme. It turns out that, for Philippe, it's the conveyor belt. As the space is highly connected, with a wide range of digital devices and the networks that support them, managing the unavoidable cables and chargers became a challenge. Gensler responded by turning them into a focal point, creating a bright overhead conveyor belt to house them. 'It physically and symbolically connects the teams and their work, whilst providing the necessary infrastructure that supports all alternative settings for creation and experimentation,' Philippe concludes. 'Also, the fact that it's a super ubiquitous component – it's something that you find on every project and that we usually try to hide from sight. But because it's been carefully thought-through, it's making something ordinary and usually overlooked by everyone into something that's extraordinary.